Courage

Leather, Sandalwood, Sage, Palo Santo, Black Pepper
Love

Palo Santo, Sage, Clove, Cedarwood, Blackwood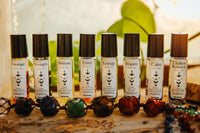 Meditation Products
Meditation candles, Fragrance Rollers, and body soap all made with custom blend fragrances to boost your prayer or meditation. Real gemstones/stones are used in each product to help align your energy and vibration.
Shop Now
Cold Process Body Soap
Our body soap is made with 6-7 different oils chosen specifically for their cleansing and conditioning properties.
Body Soap