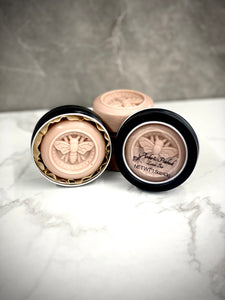 Our hand made lotion bars are made with Beeswax, Cocoa Butter, and Coconut Oil. 
Beeswax has a protective nature. It is known for locking in and holding moisture to the skin. 
Cocoa Butter is rich with antioxidants and fatty acids which helps nourish the skin. 
Coconut Oil is great for moisturizing skin. 
Ingredients: Beeswax, Coconut Oil, Cocoa Butter, Fragrance, Arrowroot Powder, Mica
When used after a shower these lotion bars help extend the scent of our body soaps on your skin.
A 1.5oz bar will last you a very long time!