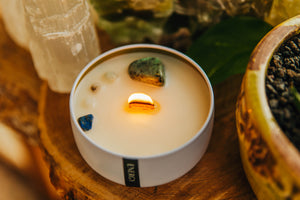 Our signature blend of Energy fragrance in a tin with a crackling wooden wick.
Scent profile: White Santal, Tobacco Leaf, Cocoa Blossom, Black Pepper
This candle is made with a luxury coconut/soy wax blend and accented with real African Turquoise, Lapis Lazuli, and Aquamarine stones.
When your candle is finished burning:
Soak the remaining wax and crystals in hot water then wipe your crystals off with a towel to clean.
Tips for a safe candle burn:
-Trim wick to 5mm or 3/16" before every burn
-Do not burn Candle longer than 4 hours at a time 
-Do not leave candle unattended